This city, located 2 hours away from Bangkok by train, is the former capital of the Kingdom of Ayutthaya (1351-1767) and home to many ruins forming a historical park recognized as a UNESCO World Heritage Site. These ruins are characterized by the reliquary towers (prangs) and gigantic monasteries, and are one of the most interesting places to visit in Thailand.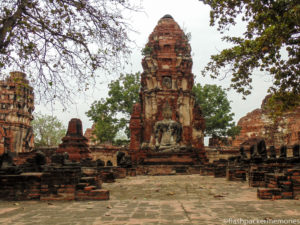 If you are a fan of video-game movies, you will note that here is where they shot many scenes of the 1995 Mortal Kombat movie. Not a great movie, but awesome places 😉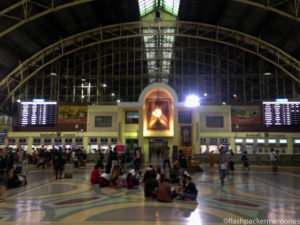 Ayutthaya can be easily reached by train from Bangkok as a day trip, so no need to get a tour to go there. Some people make it a stop on the way to Chiang Mai. We decided for the day-trip as we preferred to travel light. Trains depart very frequently from Hua Lampong Station and cost as low as 15 Bahts (less than 50c USD) if you travel in third class. If you are just going to Ayutthaya (not taking the trip to Chiang Mai), take third class, it is good enough! Ensure to be close to the train when it gets into the station, as tickets are not numbered and you might end up standing all the way if you are late to get onto it. Keep your ticket as the inspector might ask for it.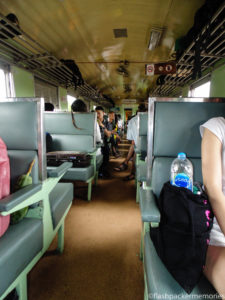 Once you reach Ayutthaya, you have many options, from walking to renting a bike or, as we did, hire a tuk-tuk to show you around and bring you back to the train station. They can have up to 6 people in one of those, so if you want to make your money count, make some friends. Probably all travelers are going to want to go to the same temples.
When we got to Ayutthaya, we arranged to share a tuk-tuk with three very friendly European girls, and we all agreed to see the temples listed below. It took us about 3 hours, and, very important, we had prearranged the price with the driver. Standard is approximately 200bahts per hour, try to use that as a reference when negotiating.
The temples we saw were:
Wat Mahathat – most famous thing to see there is the Buddha head tangled in the branches of a tree. Also, the temple is very nice to walk around. Entrance is 50 Bahts.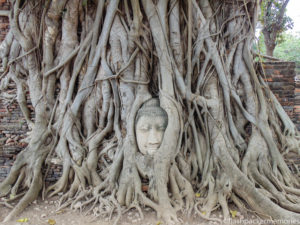 Wat Phra Si Sanphet – one of the most replicated images of Ayutthaya, the Three Cheddis are a must-see. Entrance is 50 Bahts.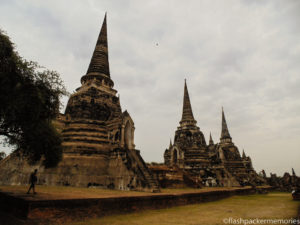 Wat Phra Ram – has amazing details around the main prang. Do not miss those! – Entrance is 50 Bahts.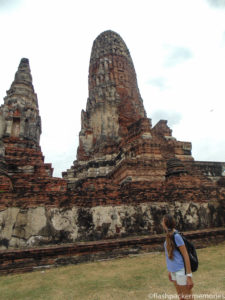 Wat Yai Chai Mongkhon – main thing to see here is the Reclining Buddha. Note that it is in open air, next to the main entrance. We couldn´t find it at the beginning, and it shouldn't have been that hard ;).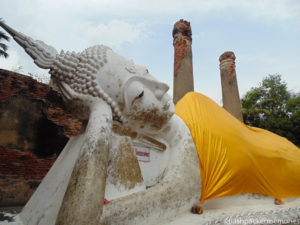 The rest of the temple is beautiful too, with Buddhas lining up around the main chedi. Oh, this temple has an entrance fee of 20 bahts.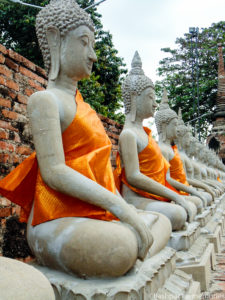 Wat Chai Wattanaram – Similar to Cambodia´s Angkor Wat, this temple is the biggest one around. Cost is 50 Baths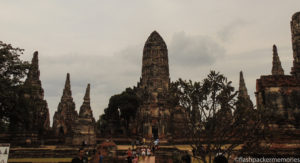 Wat Lokaya Sutha – ruins of a giant reclining Buddha (yes, another one) in open air.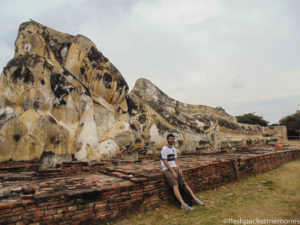 After visiting those temples, we returned to Bangkok on the train. We had bought the tickets when we arrived to Ayutthaya, always considering possible delays in both the tuk-tuk ride and the trains. But everything worked out pretty much ok, after about 1,5hours in Ayutthaya´s train station eating chips and taking ridiculous pictures.