"Tiananmen" means the Gate of Heavenly Peace. The square was named after this monument, which is the most significant image of the square: a red Chinese building with a huge picture of Chairman Mao. It is also the entrance to the Forbidden City.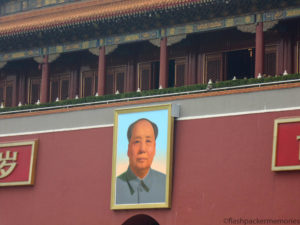 This is the main square in Beijing, a place that witnessed many historical events in China. It is among the largest city squares in the world.
Entry to the square is via different checkpoints and you have to go through a security check first.
The center of the square is crowned by the Monument to the People's Heroes, an obelisk that was built in honour of the martyrs of the revolution.
Other than the Forbidden City, which demands a post of its own, Tiananmen Square is home to the many important buildings.
Chairman Mao Memorial Hall
This is Mao Zedong's final resting place. His body was embalmed and is displayed in a crystal coffin inside the mausoleum, where millions of Chinese come every year to pay their respects to the founding father of the People's Republic of China.
The mausoleum is free to visit but only open in the morning. Visitors are expected to keep quiet and pay respect. Bags and cameras are prohibited and, although we read there was a luggage office, we could not find one. The line is long and tedious.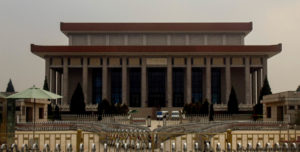 Great Hall of the People
State building used for legislative and ceremonial activities. It is also the place where the National People's Congress hold their sessions.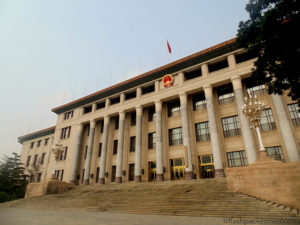 National Museum of China
One of the largest museums in the world, it is dedicated to the history of China with many rare artifacts from different dynasties.
The entrance to basic exhibits is free, but only 1000 independent visitors are allowed in per day.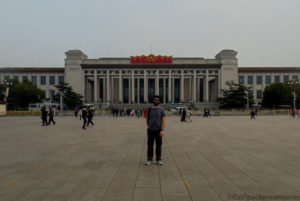 Flag-Raising Ceremony
It occurs every day at sunrise. You have to get up very early and get to the square before the sun comes up to watch the full ceremony.
Beijing Opera House
Only one block away from Tiananmen Square, right behind the Great Hall of the People, stands the National Centre for the Performing Arts. It is worth checking it out to appreciate the curious design: a titanium and glass dome that reflects on the lake around it making it look like a giant egg.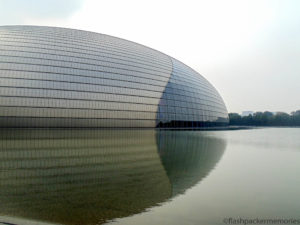 Top Tips Before You Go
All attractions around Tiananmen Square are closed on Mondays.
Memorial Hall for Chairman Mao is only open in the morning, so if you plan to visit go very early
Getting there:
Subway Line 1 – Tiananmen Dong Station / Tiananmen Xi Station
Subway Line 2 – Qianmen Station (Exit A or B)