Saigon, like the locals name it, is the largest city in Vietnam, and former capital of the French Colony known as Cochinchina and the Republic of (South) Vietnam. With a very vibrant life, a lot of remembrances of the French-dominance era and the war, a huge amount of tourism and not so chaotic streets (Compared to Hanoi at least), it was our first destination in Vietnam.
While some things might not be lovable, we found some others quite enjoyable, especially from a historical and cultural standpoint. Please note that your accommodation might be in some not-so-nice alley, however you will note that this is part of the picturesque Saigon.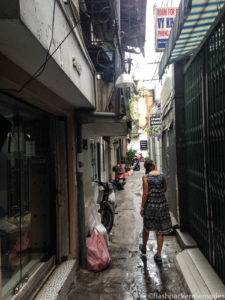 Probably, if you haven´t looked for it yet, you are wondering what is the difference between Saigon and HồChí Minh City: They are the same. After the Communists won the war in the 1970s, Saigon was merged with the surrounding areas and renamed Ho Chi Minh City following revolutionary leader Hồ Chí Minh. As said above, locals still call it Saigon. In fact, the local airport code is still SGN, and the train station is called Ga Sài Gòn (Ga coming from the French Gare – Station). Everyone will understand you by saying any of the names, but we definitely find it nicer to name it Saigon (oh, vintage people).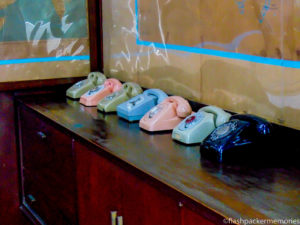 Two days are currently enough to get the gist of the city and some touring around. See below our suggested plan for two days in Saigon. Most of it can be done by walk, so take it as an opportunity to blend with the locals.
Day 1
Start your first morning by having Croissants at any nice bakery. Yes, we told you about French influence. One of the great French gifts are the bakeries, so enjoy some croissants there. If you ask me, Pablo, without coffee. I really disliked Vietnamese coffee. But I might be wrong; maybe you want to try it!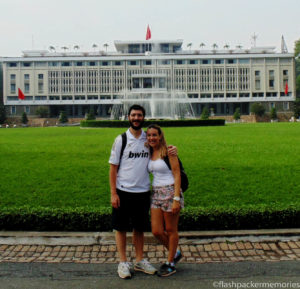 Once fed, head to the Reunification Palace. Before known as Independence Palace, its construction started in 1962, and it was home and place of work for the President of South Vietnam during the Vietnam War. War ended in 1975 the moment the North Vietnamese Army got in the palace by crashing a tank through its gates. Palace can be visited between 7.30 and 11.00, and between 13.00 and 16.00, after paying a small fee. Currently a museum, you can freely walk around and there are some guidance signs. It takes less than an hour, and looks like a time frozen capsule from 1975 (yes, you can feel a little bit like in a cold-war spies movie).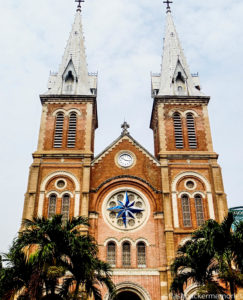 After leaving the Reunification Palace, take Lê Duẩn street through the middle of the park to get to the Notre-Dame Basilica. You will find it obviously very French. Next to the Basilica, the Post Office can be seen. We liked this building, especially because of the interesting mix of old Vietnamese maps for post service hanging from the walls and the image of Ho Chi Minh.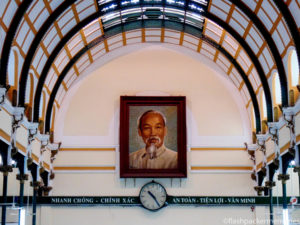 After leaving the post office, have lunch somewhere around and head South East on Đồng Khởi for 10 minutes, when you will reach the Saigon Opera. Also a French Building, it was built in 1898. Sadly, only way to visit it is by purchasing a ticket to one of the shows.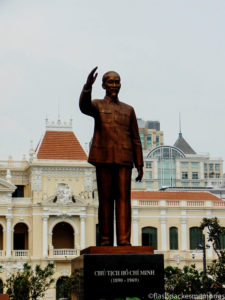 Just 2 minutes away from the opera, walking onto Lê Lợi road, you will get to the statue of Hồ Chí Minh, right in front of the city´s town hall, and surrounded by many international brand's deluxe boutiques. Apparently, there is a growing middle class in Vietnam willing to buy a lot of this stuff, but we did not see them there. Stores were pretty much empty.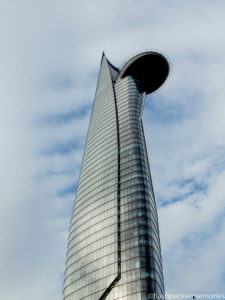 To see an emblem of modern Saigon, head south west on the Nguyen Hue street for approximately 6 minutes, and turn right on Hải Triều. From there, you will find the Bitexco Tower. We read in some web that the Tony Stark´s tower in the Avengers was inspired in this building. Up to you to believe if it is true. From there, it is probably time to go back to your accommodation place. Before going back, ensure you have booked some tour to see the Cu Chi Tunnels the next afternoon. Probably you can arrange this at your hostel or hotel.
For dinner, if interested in having some local food, we encourage you to try the Pho Bo (you´ll find it everywhere in Saigon-HCMC). Pho Bo is a traditional South Vietnamese Beef Noodle Soup. I particularly found it quite tasty. Accompany it with local beer, which in Saigon is named, predictably, Saigon. It is good and cheap enough to have a few.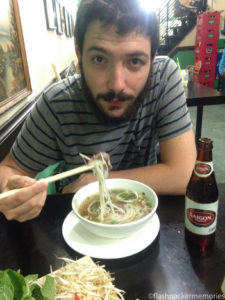 Day 2
After breakfast (you can repeat the menu from the previous day), head to the War Remnants Museum. It contains exhibits relating to the Vietnam War and the first Indochina War, and it is quite impressive. There is a display of tanks and armory at the entrance, plus walls full of historic lines showing media and pictures from the war times. A few rooms upstairs show also the terrible impact of the war on people, including details about the famous picture by Nick Ut of terrified children running from the site of a Napalm Attack. The museum is shocking, but definitely a must if you visit Saigon.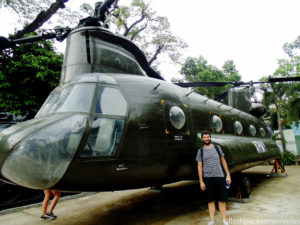 When you leave the museum, head south east, passing behind the Reunification Palace, to go to the Ben Thanh Market. This Market is full of "Made in Vietnam" goods, from clothing to food and even furniture. Spend some time there, and be ready to bargain. You might get some good deals, or at least a nice "Good Morning Vietnam!" t-shirt.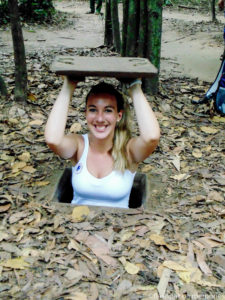 After the Market, go to the meeting point where you arranged to take the tour to the Cu Chi Tunnels. These tunnels, located outside of the city, are part of an immense network of underground tunnels that underlie much of the country. They were one of the reasons for the success of the Communist Viet Cong soldiers against the US. During the tour you can get in and crawl through some of tunnels, as well as see some details about the way Vietnamese lived in there. It is said that some people might stay hiding in the tunnels for many years. We consider this tour one of the most interesting things to see in Vietnam.
With this tour we finish our two-days in Saigon guide. Hopefully you can enjoy at least some of the places we detail here, and please comment about your experiences and expectations on Saigon!