Not to miss in Kuala Lumpur
Malaysia´s capital, Kuala Lumpur is one of the cities we have learned to love. It was the first city we visited in Asia, and we consider it a great introduction for us westerns to the Far East countries. It is super easy to move around, with people that speak English and good transportation and signs. Also, the mix of culture and people is so great, walking around is an experience itself!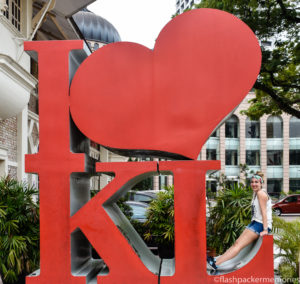 Usually, it acts as a great hub in South East Asia. Kuala Lumpur International Airport is the main hub for Asia´s best low cost airline, Air Asia, and also flights to Europe and Australia tend to be way cheaper than from close cities such as Bangkok and Singapore. It is a great option to consider as a one-day stop. Read about trip planning in this post.
We have compiled a list of 5 spots you can´t miss in KL – including one off the beaten track that we loved-. As we always say, the best thing to do is walk as much as possible, to see and surprise yourself with unusual things that can pop up in every corner. This is going to be challenging in Kuala Lumpur, with constant humidity and 30°C, but try to do it, at least a little bit.
1 – The Petronas Towers
With 451 meters, these buildings were the tallest in the world from 1998 to 2004, and still remain as the tallest twin towers in the world. They have 88 floors and are a symbol of future Malaysia. I have been to a few towers taller than them, and they are still one of my favorites. They were designed by the Argentinean Architect Cesar Pelli (yes, I am being slightly subjective here). Viewed from above, the design shows resemblance of Islamic art, and it is certainly unique.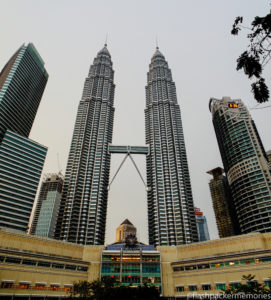 It is possible to visit the towers, including views from the central skybridge (41st/42nd floor) and top floors. We recommend getting tickets in advance, to ensure a spot on the day you want to visit, and also, going up close to sunset, so you can have both day and night views. Tickets can be bought online (www.petronastwintowers.com.my/tickets) or at the towers.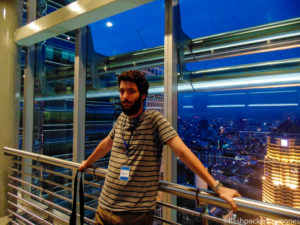 The best view of the towers is of course from the square in front of them, where you can get that awesome shot. They are more impressive lit up at night.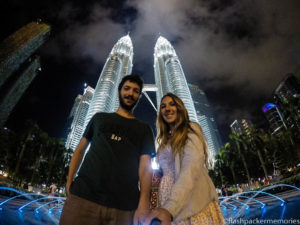 Below the towers there's a huge shopping centre: Suria KLCC, with all the main international brands and good places to eat (including our American favourite, Chili's).
Behind the towers, across the shopping centre, you can find the KLCC Park. Too hot to visit during the day, at night you can enjoy a light show at the Symphony Lake.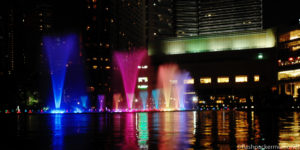 2- The Batu Caves
These caves inside a limestone hill hold a Hindu temple dedicated to lord Murugan. With 272 steps to get there, they are a very rare and interesting attraction. There is a 42 meters statue of Murugan at the entrance, and many worshiping spots inside that make them a must visit.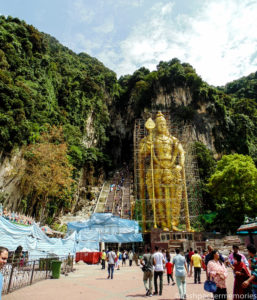 Also, you get to see a lot of monkeys who will probably steal your food. Better be prepared and buy some bananas for them.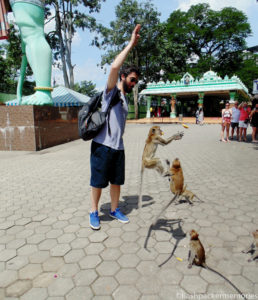 To get there take KC05 train to Batu Caves Komuter station. Plan ahead as the train to get back to the city might make you wait for an hour.
3 – Petaling Street
Located within Kuala Lumpur´s Chinatown, Petaling Street is a major market street with restaurants, food stalls and hundreds of merchants selling a variety of items of arguable originality. If you know how to bargain, you might get a few "Chanel" purses or "Adidas" Manchester United shirts for 20% of the original item retail price. Just don´t try calling customer service afterwards.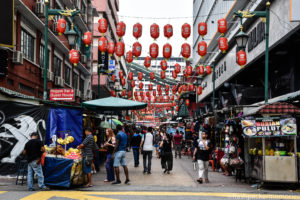 Dragon doors flanking the entrance remind you of the Chinese presence; however, merchants can be also Indians, Malays and Bangladeshi.
Close to Petaling Street, there are two small but interesting temples, in case you need some relaxing after all the shopping: Guan Di is a Buddhist temple and Sri Maha Mariamman is a historic hindu shrine.
4- Masjid Jamek
This Mosque, built at the beginning of the XX Century, is located very close to the confluence of the Klang and Gombak rivers. A place of worship, it can be visited for free outside of the praying hours. It is close to the LRT Station of the same name, and it's a good place to learn a little bit of Islam really close to the city. Guides are friendly and open to explain lots of details. Guys, ensure to have pants that cover at least your knees, and ladies, be ready to cover your legs and hair specially. The clothes are provided for free, and as you leave, you get some water.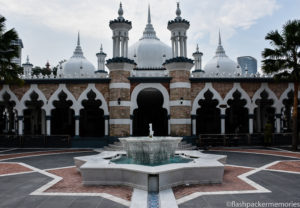 5 – Masjid Wilayah Persekutuan
The highlight of our last trip to KL, in December 2017, this Mosque is slightly out of the regular touristic route. It is hard to get there by public transport, so we recommend taking a UBER or a Taxi (really cheap, ~USD2.50, less than 15 min from the city centre). The fact that it is not in the regular route makes it a great spot to be quiet and discover a lot about the magnificent building (quite new, built in 2000), and also details about Islam. While visiting, a perfect English-speaking guide walked us through the mosque for an hour, explained a lot about the place, the history, and allowed us to ask a lot of questions about the way Muslims lived, also comparing to other religions. We really enjoyed it, and all the details about our visit are covered in this link.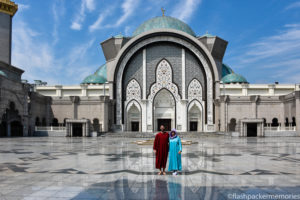 As mentioned, this is only a top 5 of our favorite spots in Kuala Lumpur. We really enjoy the city, and recommend a visit to everyone we know. People in KL are super nice and friendly!
Bonus track – our recommended Hostel in KL:
Every time we go to Kuala Lumpur, we stay in the 1000 Miles hostel. Located 10 min away by foot from the Masjid Jamek LRT station, this hostel has a great value for money relation, clean double rooms with private bathrooms, as well as a light breakfast (toasts, peanut butter, jam, coffee, tea) included. Staff is super nice, which is always a plus, and they're available 24/7 in reception!
They also have a storage room for your stuff if you need to be away for a few weeks ;).