This temple is probably not a must-see in Shanghai, but if you have the time and want to see some religious culture, then this is a nice option.
The building itself is quite beautiful, with yellow walls and wooden gates. After seeing many Buddhist temples across China, this doesn't seem to be so interesting. But if Shanghai is your only chance at connecting with Buddhism, then we recommend visiting.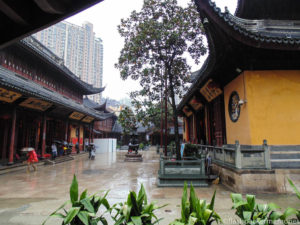 The current temple was built in the early 20th Century after the original was destroyed. The main purpose of this place is to house two Jade Buddha statues, which are rare cultural relics as well as great examples of porcelain artworks. Both are carved in whole white jade.
The two Buddhas are the Sitting Buddha and the Recumbent Buddha.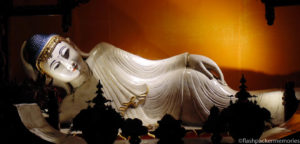 Plan Your Visit
Opening Hours: 8:30-17:00hs
Admission Fees: CNY $30.-
Getting There
Metro Line 7 – Changshou Road Station (Exit 5). Turn right on Jiangning Rd and walk to Anyuan Rd. It is a bit tricky.