The Kingdom of Thailand (fancy name isn´t it?) is possibly the most popular country for travelers visiting South East Asia. The reasons can be multiple: outstanding temples, beaches that look like paradise, great people, memorable food, vibrant cities and the most diverse fauna. Yes, Thailand has it all.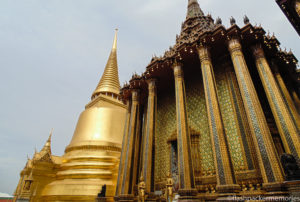 Just to understand a little bit of Thailand before listing what can be found there, it is important to state that it is the only country in the region that, despite the pressure, was never colonized by European´s nations.  While the Eastern neighbors like Vietnam and Cambodia where occupied by the French, and Malaysia was conquered by the British, Thailand´s rulers managed to exploit the situation of "being in the middle" and worked it out to stay free. Nevertheless, European presence in the region had an impact in the nation, for example, with Left Hand Side Driving.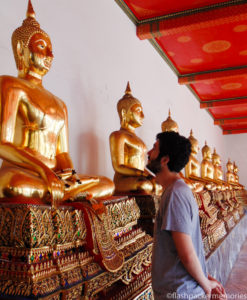 The country´s former name of Siam can still be heard at some places (it was last used in 1948), however currently is just a picturesque way of calling the country.
We visited Thailand for 18 days in January, and we definitely think we could have stayed longer (and want to return). When planning our visit, we decided to distribute our time between the capital Bangkok, the temples and nature up north, and the world-class beaches in the south west. As the weather was not the best, we did not visit the beaches on the south-east. Depending on what you are looking for, and the time of the year, you may want to pay some of them a visit.
Bangkok is Thailand´s most populous city (and possibly the city you´ll be landing when getting to South East Asia), and has a lot of things to do. It is an extremely popular backpacker destination with cheap accommodation and beer 🙂 (some people say Khaosan Road is the Backpacker´s capital of the world), but also has attractions to suit different people. Particularly us, in our flashpacking travel style, found an amazing equilibrium between culture in the temples, people watching in streets and markets, incredible city views from rooftops and pub-life.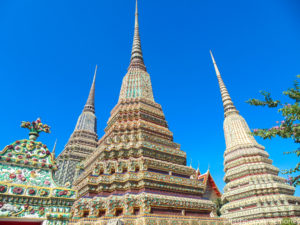 Up north, we visited Chiang Mai and Chiang Rai. Both well know for the temples located there, we loved them and always encourage fellow travelers to go up north. If you plan in advance, you can get the overnight train, which is cheap, super comfortable and a very good experience. In Chiang Mai, besides temples we also visited an Elephant Sanctuary, which is indeed a great experience. In Chiang Rai, the place that justifies a visit is the completely out of all logic White Temple. See it to believe it.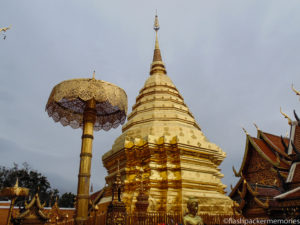 As regards the South, we visited mainly four beach regions: Ao Nang and Riley Beach (Krabi), Koh Lanta, Koh Phi Phi (and the surrounding islands) and Phuket. Free advice; just go to Phuket if you need to catch a flight there. All of the rest have something that makes them unique!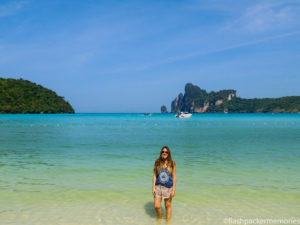 We have had a very good experience in Thailand, we recommend the visit to everyone, and, most important, please consider that the country is so much more than just those paradisiacal beaches from the movies. Bankgok is awesome, the north is lovely, and even the beaches have more to offer than just white sand and clear waters.
Thai Need-to-Know
Visa: Not required for most passports, if staying shorter than a month (Europeans, Aussies and Americans), and for up to 90 days (Argentina, Chile, Brazil). With Argentinean Passport, we were required the Yellow Fever Vaccination certificate
Currency: Thai Baht (aprox. 33 THB per USD – August 2017 – easy conversion is dividing by three and move comma once. Then round down.)
Credit Cards: Accepted, but as lot of bargaining is needed, carry cash. Cash out of ATMs easily.
Exchanging Money: Exchange offices in touristic areas
Driving: On the left side of the street, messy and chaotic
Language: People speaks English in the cities, and with signs it is easy to move around
Travel: Trains and Flights between all major cities. Buses to small towns.
Sim card: Easy to buy at any airport. Good reception.