The Capital of Reunified Vietnam is one of a kind, a city that awakens all senses as you go through it showing what really lively streets are like. Some words that define Hanoi are street food, traffic, motorbikes, lake, organized chaos, water puppets, a bay and socialism.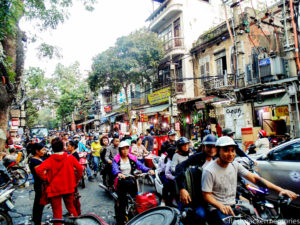 We can promise all of these things make such a unique atmosphere you will definitely miss it when you are gone. Yes, as with mostly all places in Asia, you have to start by understanding the culture and places you are going to see are completely different to what you are used to, and there is where the charm resides.
We stayed in Hanoi for 5 days (including one and a half day visiting HaLong Bay) and this are the spots we consider can't be missed:
Hanoi´s Old Quarter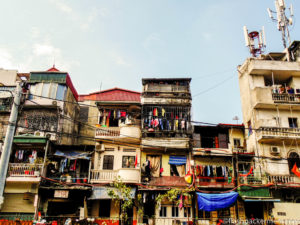 First of all, not only visit it, stay there! Hanoi´s Old Quarter is an amazing mix of old French Colonial architecture, chaotic stores that take over the street, motorbikes everywhere (absolutely everywhere), people selling and sharing food right in front of their houses, on little plastic chairs, and tons of massage places, besides theatres, cafes and a lake.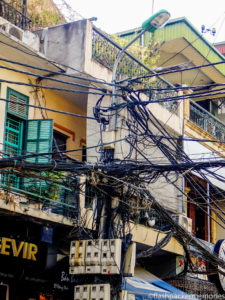 It was the only place in the world where we were stuck in traffic as pedestrians and we had to walk the other way to avoid staying there forever.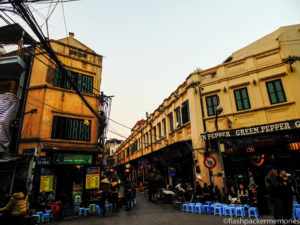 Within the Old Quarter, our favorite spot was the Bia Hoi Corner. There you can have draft beer for less than 5,000 VND per glass (approximately 30 cents of USD), and a great atmosphere generated by the mix of locals and tourists enjoying the night!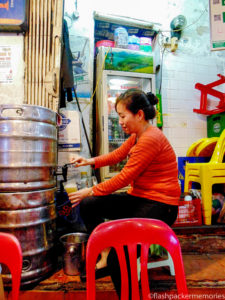 Hoan Kiem Lake
Meaning Lake of the Restored Sword, this is one of the major scenic spots in the city and a great place for people watching. According to the legend, in 1428 the Emperor was on a boat in the lake and a Golden Turtle God asked for his magic sword. The Emperor understood a local God had given him that sword in the past to fight the Chinese, and it was time to return it, what gave name to the lake. The Turtle Tower can be seen there. Jade Island is also located in the lake, where there is a temple dedicated to Confucian and Taoist philosophers. They will charge you to get there, and we really don't think it is worth.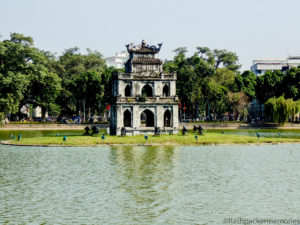 Water Puppet Theatre
An ancient art in Vietnam, Water Puppetry is a must if visiting the city. We saw them right north east of the Hoan Kiem Lake, and it was a nice play about Vietnamese History, mainly the Restored Sword mentioned above.  Keep in mind that you might need to buy tickets in advance (at least the same morning). They cost approximately 100,000 VND (4.50 USD).
Temple of Literature
Dedicated to Confucius, the Temple of Literature hosts the Imperial Academy, Vietnam´s first national university, which was established in 1076 to educate bureaucrats, nobles, royalty and other members of the elite. It is divided into several courtyards and it is a fine exhibition of Vietnamese traditional architecture. Entrance is only 10,000 VND (about 50 cents of USD). Beware of opening hours: 8:30 to 11:30 and 13:30 to 16:30 every day except Monday and national holidays.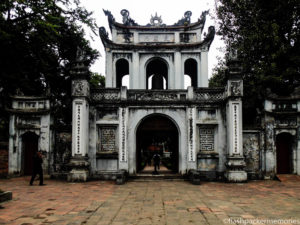 One Pillar Pagoda
Let us be honest here. We do not think this pagoda is spectacular at all. It is famous because of its shape resembling a lotus blossom, and it is built of wood on a single stone pillar 1.25 m in diameter. It is free to visit, so once you are wondering around (you will be in the area), just come by it and take a few pictures.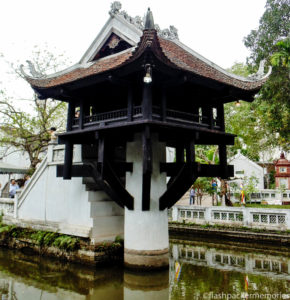 Ho Chi Minh Mausoleum
Ho Chi Minh´s final resting place is located in a large building near the Old Quarter. His body is embalmed and can be seen during the visit, but consider it is strictly forbidden to take cameras, food or drink. Check before you go because eventually they close the place for preservation. No short skirts or tank tops are allowed and there is high level of security check upon arrival. Day packs can be put in a safe deposit before you enter but make sure you do not carry many valuable items with you. Taking photos, talking or finger-pointing are strictly prohibited inside the mausoleum.
Opens: 8AM-11AM, except Monday and Friday. If is free and we consider it is worth the visit.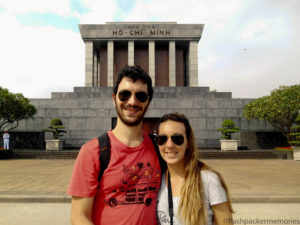 Presidential Palace
It is located next to the mausoleum, and was constructed in early XX century to house the French Governor-General of Indochina. Ho Chi Minh built a traditional Vietnamese House inside the grounds as a residence. Visit is nice, costs 25,000 VND (Aprox. 1.2USD) and is open 7AM-4PM except on weekends.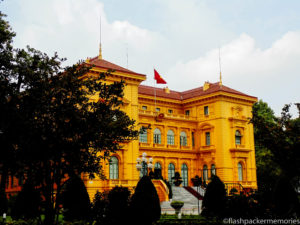 Imperial Citadel of Thang Long
This citadel compiles the ruins of imperial palaces (still being discovered) and, what we found more interesting, military buildings from the Vietnam War era, including bunkers and some cars.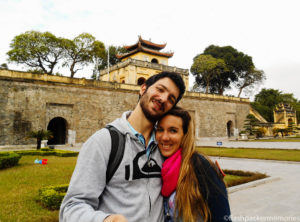 HaLong Bay
HaLong Bay is possibly the reason why you decided to visit Vietnam in the first place, and it is definitely an unforgettable place. It is a UNESCO World Heritage Site and features thousands of limestone karsts and isles in various shapes and sizes. It is absolutely beautiful.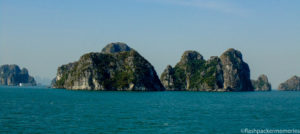 To visit the bay you will have to book a tour in a cruise. You will see while walking in Hanoi that there are thousands of places that sell tickets for different boats, including your hotel probably. There is no ideal way to hire this cruise. We took one that promised us a spot in a ship that seemed to be nice (and had nice reviews) on the date we wanted, and we were lucky it was all true. I haven´t heard of scams there, but you will have the idea you are being scammed. Only advice we had from one friend, and a valid one so take it: if you can, spend a little more to have at least one night on the boat in a room with a view. Our boat was the Starlight Cruise, and it was really good!
Hanoi Opera and surroundings
The Hanoi Opera House is a classic French building constructed at the beginning of the XX Century, modeled on Paris´s Palais Garnier. Nice architecture and surrounded by some of Hanoi´s most refined buildings, it is a nice area for sightseeing.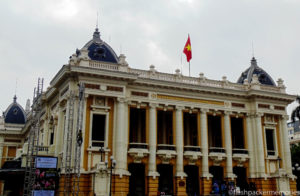 Hanoi is a great big city which charm resides in getting lost and finding awesome spots. Go ahead and do it!