The Great Wall is a fortification built across the northern border of ancient China to protect the Empires from invasion. It is actually a set of various walls that were constructed in time, the first one having begun in the 7th Century BC.
Today the Wall is a main tourist attraction in Beijing. There are many sections to be visited, some better preserved than others, but all equally breathtaking.
The most popular ones are Badaling and Mutianyu. They were frequently renovated, they have impeccable tourist facilities and they are easy to access from Beijing. However, they are as packed as can be! You've never seen as many people as you will see in these sections of the Wall. Despite the masses, the views are unbelievable.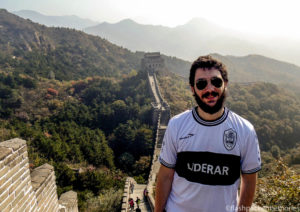 Other sections with fewer tourists are Simatai and Jinshanling. They are not as well conserved, but you will get less crowded views.
As it was our first time in China, we decided to go to Badaling. We were planning on doing a second day trip to Jinshanling, but we were exhausted and you really need to have all your energy for walking the Great Wall. We'll leave that for next time!
Badaling
Badaling has two sections: North and South.
The North Section has 12 watchtowers and it demands more physical strength as it climbs up and down the mountain. You can actually climb via a pulley to the 4th tower or via cable car to the 8th tower. Mind you that this will be the most crowded area of the Wall.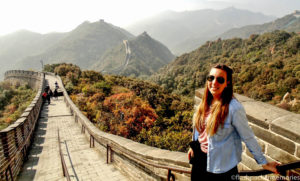 There are not so many people past the 8th Tower, as the path is harder, but worth going.
The South Section has 7 watchtowers and offer easier and gentler walks. They also exhibit a great view of the North section of the wall. A cable car is available in this section.

Our Experience
We got to Badaling really early and it was already packed. The morning was so foggy that you couldn't actually see the Wall at first.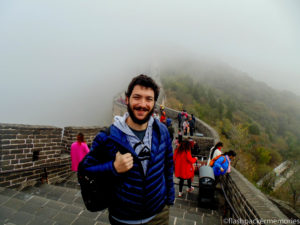 We chose to begin by the North side. We walked the first 7 watchtowers in complete blindness, only being able to see the people walking in front of us. It was also very cold.
The area between the 4th and 8th towers is the most crowded. There were places where we had to push our ways through hoards of Chinese, who don't actually understand when you say "Excuse me" (mainly 'cause they don't speak English at all).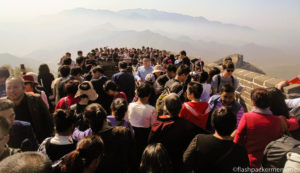 Some Chinese were very friendly and asked to take their picture with us. They loved the chance to touch us, specially my long hair and Pablo's lumberjack beard, what we obviously found it awkward at first, but got used to it!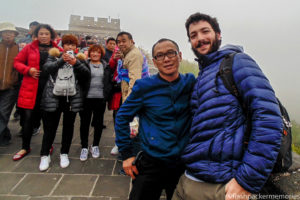 One of the nicest ones was a young man that was walking the Wall with his mother and he insisted that she take a picture holding my hand. She was a quite old lady, wearing a communist hat, and I found her very cute. She was shy at first but rejoiced when I held her hand.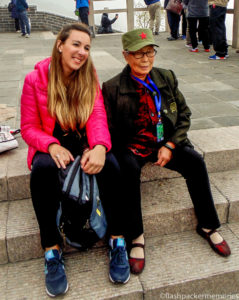 The fog started lifting around 11am and as the rays of sunshine filtered through the mist, temperature started rising as well. One tip is to dress with many layers that you can take off and that are easy to carry. We ended up in our short-sleeved t-shirts!
We kept walking past the 8th tower and glad we did! As the path gets trickier, the crowds get thinner. Mind you there are very steep parts where you need to grab the handrail so as to not to slip.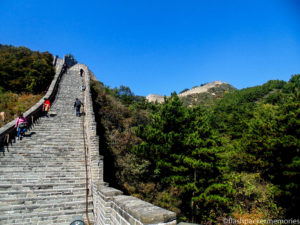 The views there are beautiful.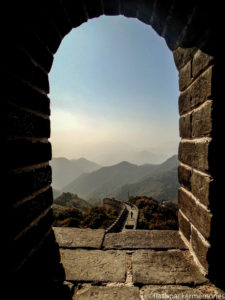 We didn't get to the 12th tower, as we wanted to save some energy to stroll around the South Section. If you are super tired, you can actually go down in the cable car straight to the entrance and then climb back up to the South Section, but you would have to pay the entrance fee again.
We decided to retrace our steps. This was a great idea as we got to revisit the towers we had not been able to see earlier due to the fog.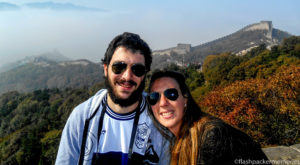 We didn't walk a lot in the South section, just enough to get a nice view of the Wall. From this spot we let ourselves be amazed at how much we had walked.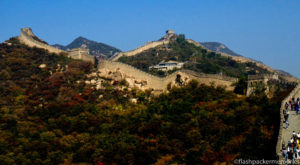 Top Tips Before You Go
Food and Water: take plenty of water and snacks. Even though there are places to eat at the entrance, there is nothing on top of the Wall. If you want to have a lunch break before continuing the walk, you will need to go down and then pay the entrance fee again. Bringing your own snacks will keep you going until you decide to leave, and you can have a stronger meal then.
Time: Start out early to make the most of your day, but bear in mind that no matter what time you go, you will never beat the crowds. We actually found the afternoon was less crowded, but this gives you little time to walk the Wall.
Clothing: goes without saying that you need good walking shoes and clothes suitable for the weather. If you go in autumn, wear layers that you can take off and carry.
Opening Hours and Admission Fees
April-October    6:30-19:00           CNY $40.-
November-March           7:00-18:00           CNY $35.00
Cable Car and Pulley are around CNY $100.- for one way and CNY $140.- for roundtrip.
Getting There
Bus 877: Deshengmen à Badaling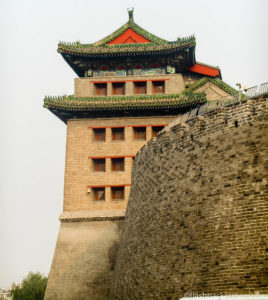 Use Subway Line 2 and exit in Jishuitan Station (Exit B2). Walk towards Deshengmen Bus Station. The way is signaled but it is not very good. There is a big Chinese imperial building next to it so use that as reference.
The bus is light green and white and has the number 877. You will see the stop and a lot of Chinese people lining up. Be prepared to be the only western looking person on that bus.
The price is CNY $12.-, but if you have a Transportation Smart Card it will cost you $6.-. This is a touristic bus that runs non-stop to the entrance. There is a tour guide explaining lots of things on the way, but we couldn't understand a word!
You can take the same bus back to Beijing. Last departure is 16:30.
There are other ways to go by public transport, like a train and other buses, but this was fairly easy and we really recommend it.