A TOUR OF THE FORBIDDEN CITY IN PICTURES
To the North of Tiananmen Square and behind the Gate of Heavenly Peace, lies what is now known as the Palace Museum. Built in the 1400s, it once served as the Imperial house for Emperors in the Ming and Qing dynasties, until 1912 when the last Emperor, Puyi, was forced to abdicate.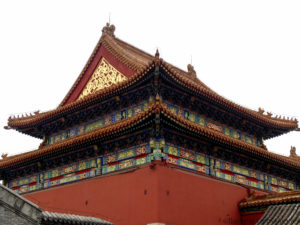 The name Forbidden City comes from the fact that people were banned from entering the palace without express permission from the Emperor.
Declared a UNESCO World Heritage Site, it is probably the best example of Chinese Imperial architecture: symmetry, enclosed courtyards, hierarchy, cosmology and colour.
Before visiting, we strongly recommend "The Last Emperor", a 1987 biographical movie about the life of Puyi, which was actually filmed within the Forbidden City grounds and depicts all its halls and courtyards doing justice to reality.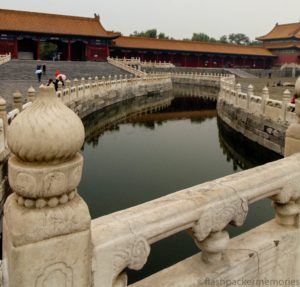 The Palace runs on a south-north axis representing bilateral symmetry. Visitors enter through the Meridian Gate and cross different courtyards and halls of distinctive importance that reflect the hierarchy in Chinese architecture. Three hours should be enough if you keep to the main axis.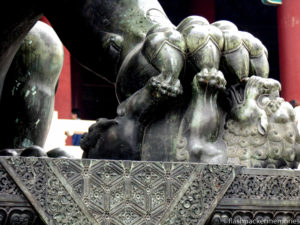 The first courtyard features the Inner Golden River, crossed by white marble bridges, and the Gate of Supreme Harmony. Two lions guard the gate: a male lion resting its paw on a globe, depicting the global extension of the Imperial power; and a female lion, its paw on a baby lion, denoting prosperity.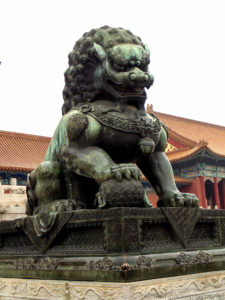 The central ramp is part of the "Imperial Way", a central axis of the Palace and of the old city of Beijing. It is a ceremonial ramp that features detailed and symbolic bas-relief carvings. Only the Emperor was allowed to walk on it.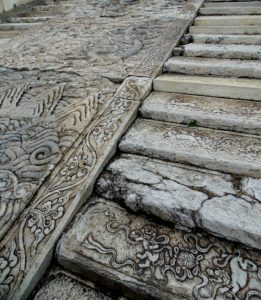 Behind that is the Hall of Supreme Harmony. Rising on top of three levels of marble terraces, it is the largest and most important building in the complex, where emperors held court and discussed affairs of state. The hall is decorated with dragons, including the Dragon Throne.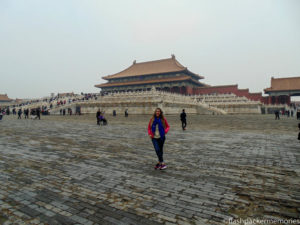 The Hall of Central Harmony and the Hall of Preserving Harmony are smaller, more intimate halls.
The Inner Court follows, featuring three more halls: Palace of Heavenly Purity, Hall of Union and Palace of Earthly Tranquility. These pavilions are smaller and served as the residence of the Emperor and Empress.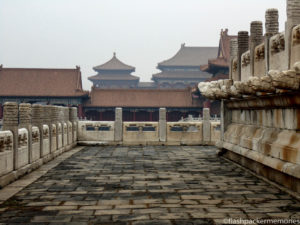 Behind these halls you can find the Imperial Garden, which is not as breathtaking as the rest of the Palace, but it depicts some typical Chinese garden details.
To the East and West of the main axis there are more halls of lesser importance, following the hierarchy feature in Chinese architecture.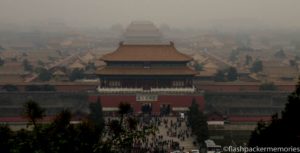 The exit is through the Gate of Divine Prowess (north) and across the street lies Jingshan Park, an artificial hill that follows the feng shui precepts: it protects the Palace from harm and from the cold northern winds. The top of the hill offers a nice view of the entire Forbidden City.
Top Tips Before You Go
You can only enter the Forbidden City via the Meridian Gate, so you need to go through the Tiananmen Tower. To make the most of your time, it is best if you include this attraction in your visit to Tiananmen Square.
Ticketing is changing. Ticket windows will be closed as of October 2017 and from then on all visitors will need to purchase tickets online or through travel agencies. Check before you go.
Passport needs to be shown at the entrance
Opening Hours and Admission Fees
April-October    8:30-17:00           CNY $60.-
November-March           8:30-16:30           CNY $40.-
Getting there:
Subway Line 1 – Tiananmen East Station / Tiananmen West Station
Subway Line 2 – Qianmen Station (walk across Tiananmen Square)