The first thing you need to know about elephants is that they have been an icon for Thailand culture for centuries, since they were used for heavy labour and warfare, until today when they are still used to entertain tourists. The elephant is also a royal emblem of Thailand.
It is known worldly that the tourism industry in Thailand makes a lot of money with elephants, by training them to carry people, do tricks and play football. Nowadays there is a trending concern for these animals and how wrong it is to ride an elephant, and you will see propaganda against elephant abuse. While this is all true, it is very important to understand that Thai people have always used elephants as a mode of transport, the same way that Western use horses, so there is no real need to be judgemental and get all "Greenpeace" about it.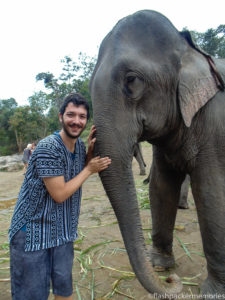 Having said this, we don't agree with riding or watching elephants suffer, but we still wanted to have an up-and-close experience with these great creatures. That is how we came across an elephant sanctuary.
We heard that Chiang Mai is "the" place to see elephants, so we did a little digging and found that there are several sanctuaries in the area, mostly due to this new trend of caring for the elephants rather than riding them. To be completely honest, even though these sanctuaries rescue and protect these animals, the elephants are still a touristic instrument and a way of making money and are to endure entertaining people day after day, although in no way this is comparable to riding or training.
The most popular place is Elephant Nature Park, but they were completely sold out on the dates we were going to Chiang Mai. Fortunately, after some research, we found the Elephant Jungle Sanctuary.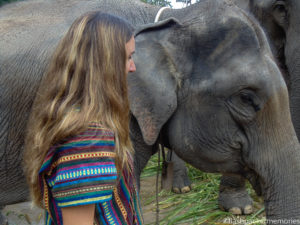 Top Tips Before You Go
If you're on a tight schedule, we strongly recommend to book in advance, as they have limited spots per day. We actually booked around 40 days prior to going. You can do this online and pay 50% with credit card and the remaining 50% on the tour day.
Also bare in mind this experience is not cheap. A full day of mingling with elephants will cost you around USD 80 per person; this includes transportation to and from your hotel, lunch, snacks and unlimited water.
Dress comfortably, with walking shoes and clothes that you don't mind ruining. Prepare a bag with a bathing suit, flip flops, a towel and a second set of clothes as you will more than likely get wet.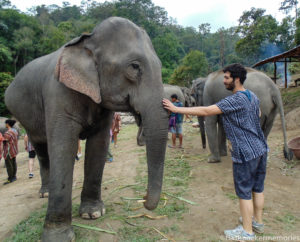 Our Experience
We were picked up very early from our hotel in Chiang Mai old town and rode for around two hours on the back of a songthaew before arriving to a jungle small downhill road. This part was not pleasant: it had rained on prior days and the road was slippery. Fortunately the songthaew parked and we walked the rest of the way down the valley.
We were around 30 people. The place is a huge field in the middle of the jungle, with a big shed and small toilets. And the elephants are right there! Around 10 of them, different ages and sizes.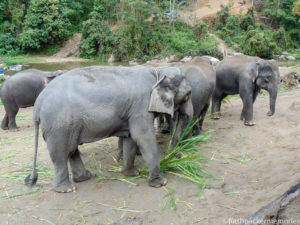 First thing we did was change clothes – they provided traditional colourful knitted shirts. Then we had some fruit while the staff explained what the sanctuary was for and how they cared for the elephants.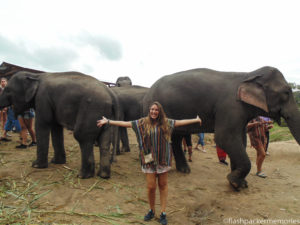 Then it was feeding time!! The staff provided giant buckets of fruit for us to grab and give to the elephants. So that was our first chance to come in contact with them, touch them and hug them. They are so cute! And sneaky, as they would use their trunk to steal the fruit in our pockets!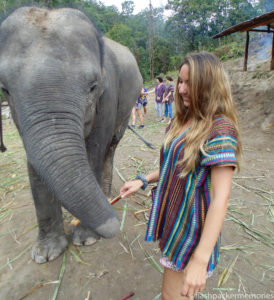 We took a lot of pictures with the elephants. There was also a group photographer that took pictures of everyone and they then uploaded the photos to Facebook.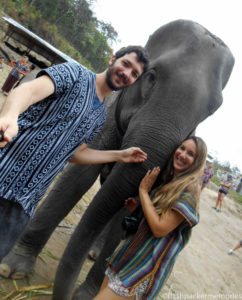 One of the elephants, the only one with tusks, was separated from the group and kept tied and guarded by the staff. When we asked why we were told he was violent towards the other elephants. They still let us take pictures with him.
After over an hour of feeding and playing around, we let the elephants rest for a while as we watched them from the shed. At that time we actually saw a baby breastfeeding, which was very cute.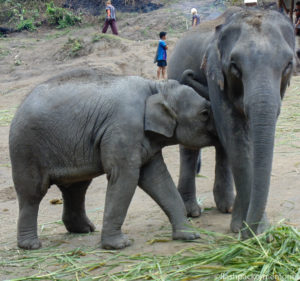 We then took a walk around with the elephants. We reached a stream where the staff made the elephants do some tricks. Nothing major or abusive of course, just sprinkle water with their trunks.
While we let elephants rest we had a good healthy Thai lunch. It consisted of a buffet with rice, veggies, potatos and chicken, then some fruit for dessert. Yummy!
After lunch it was time for a mud bath, so we changed to our bathing suits and went in the mud pool, which was actually quite gross. The weather was not the best, humid and rainy, so the elephants didn't feel like going into the mud.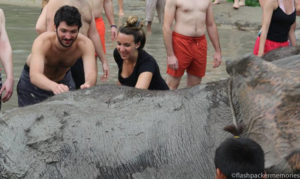 Instead, we went straight to the water and had a real bath. The elephants loved the water and it was a lot of fun for us. The staff made sure that everyone got wet.
By then it was around 3 pm. We had a final snack while drying and changing back to our clothes, then it was time to go back home. We said goodbye to the elephants and left the sanctuary, feeling grateful for the amazing experience. The songthaew took us back to our hostel.
The elephant sanctuary was absolutely one of our favourite experiences of our Southeast Asia trip and we really recommend it. We know it's a bit pricey and sometimes the cost could seem a little bit out of a backpacker's budget, but it is definitely worth doing.
Have you had an experience with elephants or any other wild animal in your travels? Are you planning to and need suggestions? Then don't hesitate to comment!