The City of London is the historic centre, where the roman´s settled in the 1st Century AD, and is currently the central business district. It is widely referred to as "the City", capitalizing City to differentiate it from London as a Metropolis, and is one of the World´s biggest financial hubs. The following are some of my favourite spots within City of London and surroundings
St. Pauls Cathedral
City of London´s Anglican Cathedral is one of the most recognizable sights, having dominated the skyline for over 300 years, and having been London´s tallest building until 1967. Lovely views are from the Front and, one of my favourites, from the Millennium Bridge over the Thames (yes, the explosion during Harry Potter was a fake one, bridge is still there). Visiting the Temple is possible for 18 Pounds, but free for worshippers. Open daily: 8.30AM – 4.30PM. Last admission: 4PM.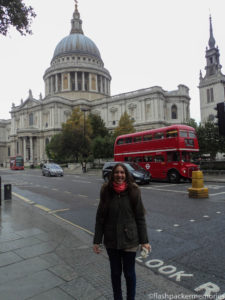 Leadenhall Market
A covered market dating from 14th Century, it is currently open weekdays 10AM-6 PM, and has an ornate roof structure, painted green, maroon and cream, and cobbled floors that make it very nice for pictures.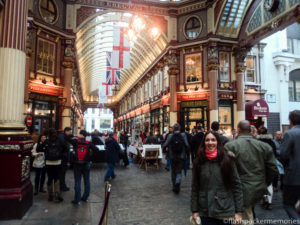 Gherkin building
Officially named 30 St Mary Axe, it is a modern building designed by Sir Norman Foster, and due to its particular ovoid form, one of the city´s most recognizable examples of contemporary architecture.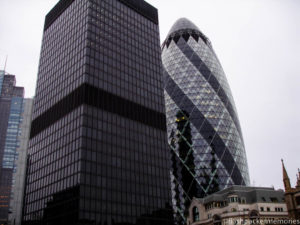 Tower of London
Officially Her Majesty's Royal Palace and Fortress of the Tower of London, it is actually located on the Borough of Tower Hamlets, right on the eastern edge of the City. Having served as residence, prison and fortress, it is currently the house of the Crown Jewels that can be seen when visiting the Tower. Nicest part of the visit is enjoying the "castle structure" of the fortress, which can be done on tour. It is important to note that a big part of the visit is at open air, so consider it if it is raining. Tickets are 24.8 Pounds (cheaper online). Open daily, Tuesday-Saturday: 9AM-5.30PM, Sunday-Monday: 10AM-5.30PM. Last admission: 5PM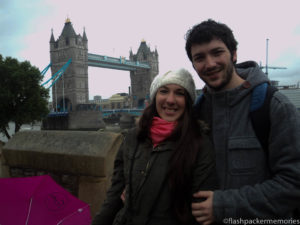 Tower Bridge
Built between 1886 and 1894, this London icon crosses the Thames from the Tower of London to Southwark. It is possible to cross it for free, but to visit the Towers, engines and high level walkaways, tickets are sold –details here.
City Hall
The Greater Authority of London´s office is based in a modern building designed by Sir Norman Foster and located on Southbank, right next to the south-end of the Tower Bridge. Open in 2002, it´s unusual shape has earned nicknames such as "Darth Vader´s helmet", "misshapen egg" and even "glass testicle". Building can be visited for free – Details here.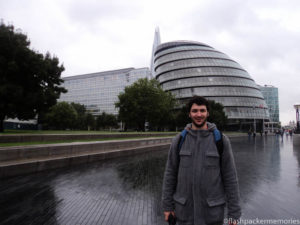 The Shard
Finished in 2012, it is the tallest building in the United Kingdom, reaching 95 storeys. It was designed by Italian architect Renzo Piano, and being so much taller than the rest of London Buildings make it and absolute landmark of the City. There is a viewing deck between floors 68 to 72, and tickets can be bought here. Not cheap, but with great views.