ONE DAY TEMPLE TOUR IN CHIANG MAI
We started with a light breakfast in our hostel, just coffee and toast, and headed out for our first adventure in Chiang Mai. The first temple we wanted to see was Wat Phra That Doi Suthep, which is on top of a hill outside the city.
We asked our hostel staff for the best way to get there, then headed out and flagged a songthaew that took us to the zoo for around 40 bahts each. In front of the zoo there are a few red songthaews lining up to take people up the hill to Doi Suthep. We weren't really sure from where the trucks left; we just followed a bunch of people that seemed to be waiting for the songthaews, which was indeed right. The ride up the hill costs around 40 bahts per person and you share the truck with other people.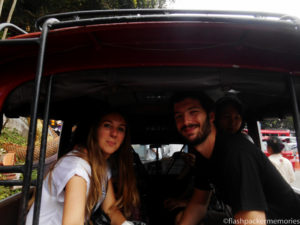 The truck dropped us off in a market on top of the hill and we walked across it to the entrance of the temple. We had to climb a huge stone staircase with dragon-like balustrade.
A group of girls wearing typical clothing offered pictures for a small price, which we paid because they were really cute.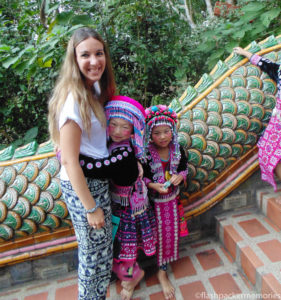 Once at the top of the stairs, we paid the entrance fee and walked around the area. One of the nicest places in the temple is the balcony with amazing views over Chiang Mai and its surroundings.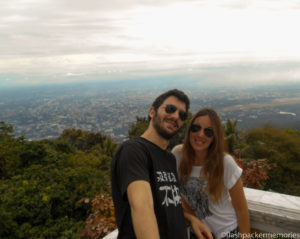 In order to go inside the temple itself, you must take your shoes off before entering. You can leave them in little lockers right outside the gate. The inside of the temple is amazing, with a huge golden chedi surrounded by golden umbrellas.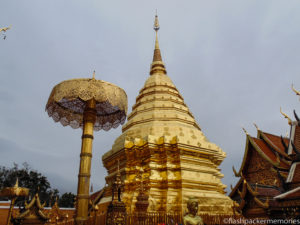 Doi Suthep is an active Buddhist temple, and considered a sacred site to many Thai people, reason why it was full of people praying. Even though they let tourists go in and take pictures, always be respectful of locals and their rituals and try not to get in the way of their prayers.
Some of the rituals include lighting candles, kneeling in front of the many Buddha statues, presenting offerings to Buddha and circling around the big golden chedi.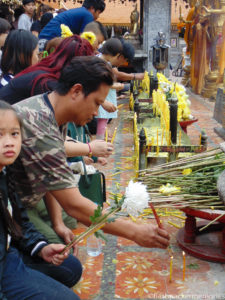 We spent around two hours in Doi Suthep before going back to the old town. We got back by taking one of the many red songthaews waiting outside the temple, which dropped us off at the north gate. From there, we started our walking tour of the temples in the old city.
Our first stop was Wat Lok Moli, right outside the city gates. With almost no gold at all, quite strange for a temple in Chiang Mai, the place is beautiful and it was practically empty, which was a plus. The temple features an ancient large brick chedi surrounded by colourful Buddhist prayer banners.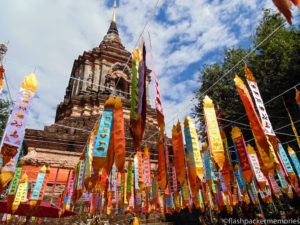 We then continued walking. There were three main temples we wanted to visit in the old town, but the funny thing about Chiang Mai is that the whole town is made of temples! Of course you are not going to visit them all, and after a while they all look the same, but we had our fair share of temples without being completely templed-out.
We spent 10 minutes in Wat Monthian, a white and dark red temple with elaborate golden decorations and a giant Buddha statue outside. The temple itself is probably not visited at all, but the amount of detail called our attention so we had to see it.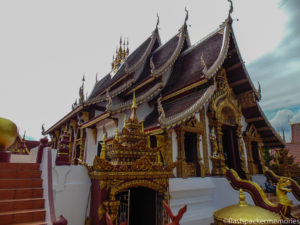 Walking down Prapokkloa Road we found a restaurant and decided to stop for a quick lunch, some good pineapple rice, a Thai traditional dish.
After a good meal, we continued our way towards the temples on our list, only to come across another unexpected and remarkably decorated temple, Wat Saen Muang Ma Luang. White walls, dark red roofs and lots of golden details were the main characteristics. Among the amazing buildings we found the ruins of an old chedi.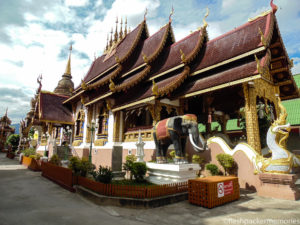 After this we finally made it to Wat Chiang Man, one of the must-sees. The complex features two main temples in typical Thai architecture, inside of which there are altars with Buddha statues, just like in any other temple in Thailand. The oldest attribute of the temple is the "Elephant Chedi", a brick and stone square base with elephant statues holding a giant gilded chedi. Undoubtedly the most beautiful sight of the temple.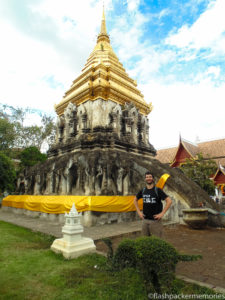 We continued walking around the old city and entered into some other temples, whose names we never knew.
Finally we made it to the second major temple in the list, Wat Chedi Luang. A fee is payable to enter this temple, but it's very cheap and completely worth it. There's a small house in the entrance which is a male-only temple – not really sure why.
The complex is full of pavilions, probably the nicest one being the big one near the entrance, which showcases typical Thai architecture, with white walls and golden details.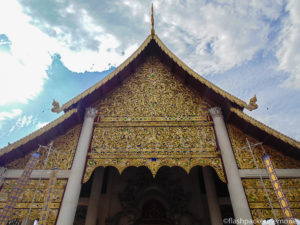 The interior is as beautiful as the exterior, possibly due to the colourful prayer flags hanging from the ceiling. Of course, an altar with a Buddha statue lies at the end of the corridor.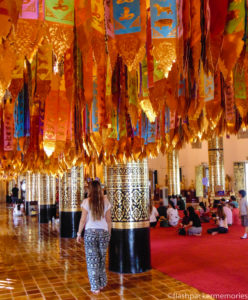 The main attraction of this temple, though, is the actual Chedi Luang: the ruins of a massive brick chedi built in the late 14th Century, which houses elephant and Buddha statues.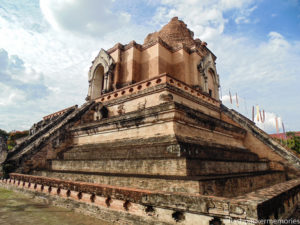 On the way to what we hoped was our last temple we came across another interesting one, named Wat Phan Tao. It is not huge and we only spent ten minutes inside, but it was nice.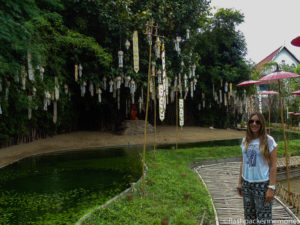 The last temple we visited in Chiang Mai was Wat Phra Sing, a big complex with many constructions. By that time we were already feeling the symptoms of temple-out sickness, so we were not really that impressed by this one, but it is still a nice temple. Probably if we had seen this one first we would have thought it was amazing.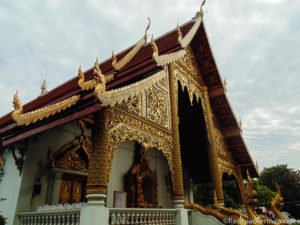 The temple features a big white house with golden details, very similar to every other temple in Chiang Mai, which houses a Buddha altar and smaller pavilions with more Buddha statues. In the back there is a giant golden chedi surrounded by smaller golden chedis. The amount of gold is impressive.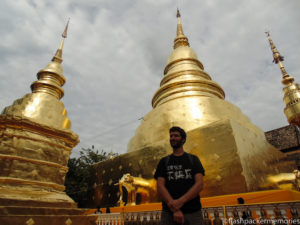 We concluded our temple tour in a fish spa, which consisted in 20 minutes of dipping our feet in a small pool full of little fish that feed on dead skin cells. Though very tickly and gross at first, once you relax it's actually quiet enjoyable!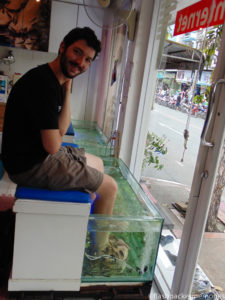 Have you visited temples in Chiang Mai? Are you planning to? Share your experience with us or let us know if you need any tips!