Top tips before you go
Before we start talking, if you are planning to go to Bangkok, remember that to visit temples, strict dress codes apply to most of them: men must wear long pants and shirts with sleeves (no tank tops). If you're wearing sandals or flip-flops you must wear socks (in other words, no bare feet.) Women must be similarly modestly dressed. No see-through clothes, bare shoulders or legs, no cleavage. If you show up at the front gate improperly dressed, there is a booth near the entrance that can provide clothes to cover you up properly (a deposit is required). Obviously, respect for Buddha is a must in Thailand. It is considered an offence to have any tattoo with the image of Buddha, so obviously, if you have one, ensure to cover it properly.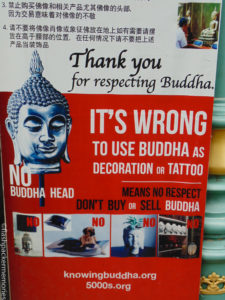 About moving around Bangkok, as usual, we recommend walking as it is the best way to see as much as possible. Sometimes it is necessary to catch public transport. Buses are great, and we used them a few times, for example to get to Chatuchack Market. We found the MRT service expensive, and being two people, it was cheaper to get an Uber, that works actually really well in the city. We recommend it, except when going to-from the Airport, as they charge an extra fee. Better to arrange a cab with your hostel.
About us and our experience in Bangkok
There is something special about Bangkok. It is one chaotic city, and somehow, it is easy to feel comfortable here. It is possibly related to the fact that there are attractions and experiences for all tastes, and tons of them.
To be completely honest, neither of us had high expectations of Bangkok, having heard so many bad things from different people. When we arrived, we thought it was just the entrance door to Thailand, with a few temples and a lot of drunken backpackers. Well, the backpackers and the temples were there, but there was so much more to see, we now think we could have stayed longer.
We arrived on New Year's Eve, flying from Hanoi. After checking-in at Chern Hostel (very nice, new and clean and well located right by The Giant Swing) we went to see our first temple, Wat Arun. To get there, we crossed the river on a ferry from Tha Thian (4 baht, no need to purchase in advance). On the way to Tha Thian we walked past the Grand Palace and Wat Pho, which we visited later.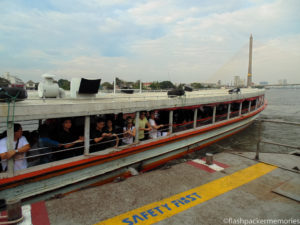 Wat Arun is a Buddhist temple located on the West Bank of the Chao Phraya River. While it has existed since XVII Century, the distinctive spires named prangs were built in the early XIX Century.   Known as the Temple of Dawn, and famous for the central prang full of different figures from ancient soldiers and animals, Wat Arun is one of the most visited places in Bangkok. Admission costs 100 Baht and it is open from 8.30 to 17.30. Visit can be completed in 2 hours, and is definitely worth it.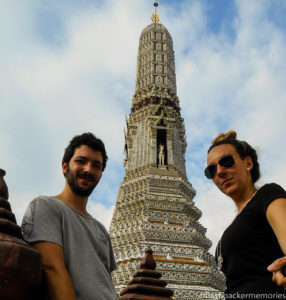 After that, we took a boat that goes along the river stopping in several places (something like a bus-boat), and got off close to Khao San Road. We went there to book a tour to the floating markets for the next day, and also used the opportunity to grab a beer in the Backpacker´s Mecca of Asia. We then walked back to the hostel for a quick shower, and went to meet friends at "Central World", a major shopping centre where the celebrations for the New Year´s Eve were supposed to take place. While the area was absolutely full of people, celebration was not huge (no fireworks at all) due to the King Bhumibol Adulyadej passing away a few months earlier. This is an example of how much Thai people loved their King, and the celebration was actually some slow music and talks.
Our second day in Bangkok started with an extremely early tour to the Floating Markets. We selected one of the many providers that can be located in Khao San Road, and as I usually say about buying tours in Asia, it is hard not to feel you are being ripped off. In this case, looks like we were not, at least in general terms.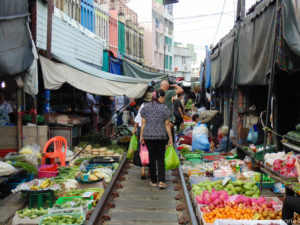 We were picked up by the tour van in our hostel, and had a first stop on the Maeklong Railway Market. This is a fresh market located on railway tracks that actually serve as tracks, so when the train comes, everyone moves their products really fast so it can go through, and then they get back to their places with the veggies, meat, fish and other stuff.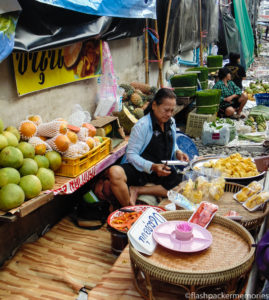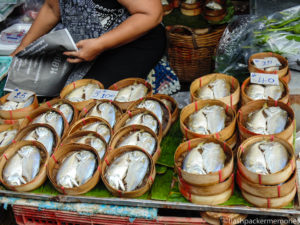 After the Railway market, we continued to the floating markets. Nowadays, this is no longer trading between boats (which was possibly the most interesting thing to see), but a log of tourist-oriented stalls next to the river and a boat (that we had to pay for separately) stopping in front of them to get you to buy something (which we obviously didn't). Our tour included a ride in a bigger-faster boat outside of the markets that was interesting. Once finished, the bus took us back to Bangkok, were we had lunch and enjoyed the afternoon in Khao San Road (and some massages 😉 ).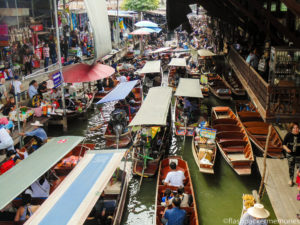 Day Three started with a visit to Wat Pho. Another must-visit place in Bangkok, this Buddhist temple houses the Reclining Buddha, a huge 46-metres-long golden statue. Other than the gigantic Buddha, the grounds are very nice, full of golden and colourful chedis (typical "conic" structures you see in all temples in Thailand). It is also considered as the leading school of massage in Thailand. While we didn´t try those there, if you did, please tell us about your experience. Entrance fee to Wat Pho is 100 Baht and is open from 8 to 17 daily. Place is big, allow 2-3 hours for a visit.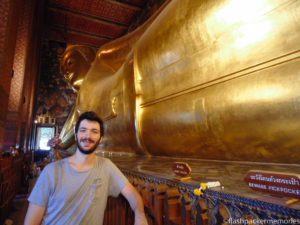 Right after that, we went to see the Golden Mount temple. Awesome views of Bankgok from the top, and the temple itself is nice.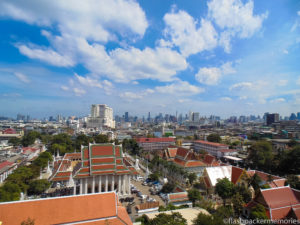 Later that day, we travelled to the north of Thailand, to see Chiang Mai, the elephant sanctuary and Chiang Rai.
We returned to Bangkok four days later, for three more days in this amazing city. On our first day back, we visited the complex formed by the Grand Palace and Wat Phra Kaew (Temple of the Emerald Buddha). This is undoubtedly the number one temple to visit in Bangkok, as it has many impressive buildings and is still the hearth of the Kingdom of Thailand, even though the Monarch doesn´t reside there now.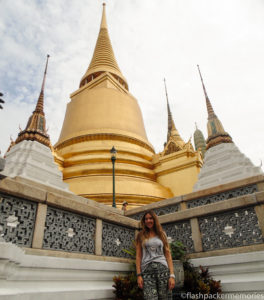 We really loved the visit. The temple itself is amazing, with so many details to be seen in every corner, including the emerald Buddha, an image meticulously carved from a single block of Jade. Entrance to the complex costs 500 Baht, and tickets are sold from 8.30 to 15.30. Consider our recommendations about clothing at the beginning of this post, and plan to stay in the complex about 3 hours.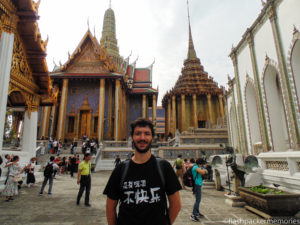 After the palace, we went to check out the National Museum, just a couple of blocks away. While it is not spectacular, it is useful to understand a little bit more of Siam´s history.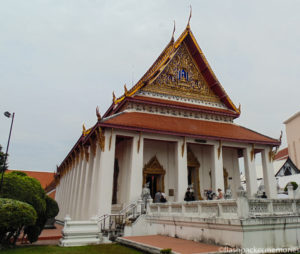 During the afternoon, we visited the Chatuchak Market. This is the largest market in Thailand, with over 8,000 stalls that sell plants, antiques, pets, food and drinks, fresh and dry food, ceramics, furniture and home decor, clothing, and books. If you are looking for fake football shirts or those lovely colourful bags, this is the place to go. Best days for a visit are the Weekends, when all stalls are open. Closed Mon-Tue. Free entrance. Opening hours can be confirmed in the official site.
We closed the day off with a beer with friends at Khao San Road, interchanging stories about our travels. Always great to do that!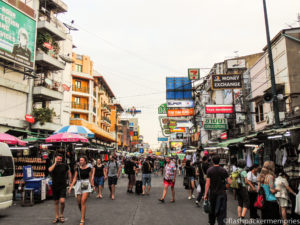 The following day we took the train to Ayutthaya to spend the day there. While we will describe this visit in a different post, it is important to state that is a very interesting place, and you can go there by train in just a little over an hour, and the ruins for the temples are very nice.
We returned in the afternoon, and that night we did another Bangkok classic, visiting a rooftop bar. Do not think that those are really fancy places; while some probably are, we went to one that had great views (47 floor), beer at a logical price, and a casual dress code: we were ok just wearing a t-shirt and jeans. Name is Cloud 47. It was a great experience.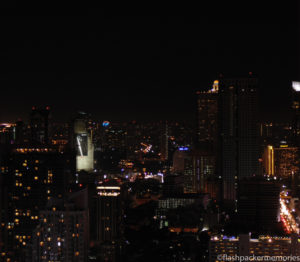 Our last morning in Bangkok included visiting Chinatown, which we did not like, and the Golden Buddha temple. This was nice but not memorable. Only include it in your itinerary if you have too much extra time ;). It is open 9-17, in Chinatown, and costs 10 Baht, including a visit to the museum.
That was our last spot in Bangkok, as that same afternoon we flew to Krabi, to relax in Thailand´s world famous beaches. Our next-to-five-days in the capital of Thailand were great, and we definitely want to go back some day.
Have you been to Bangkok? Are you planning to go? Have questions? Tell us about it!